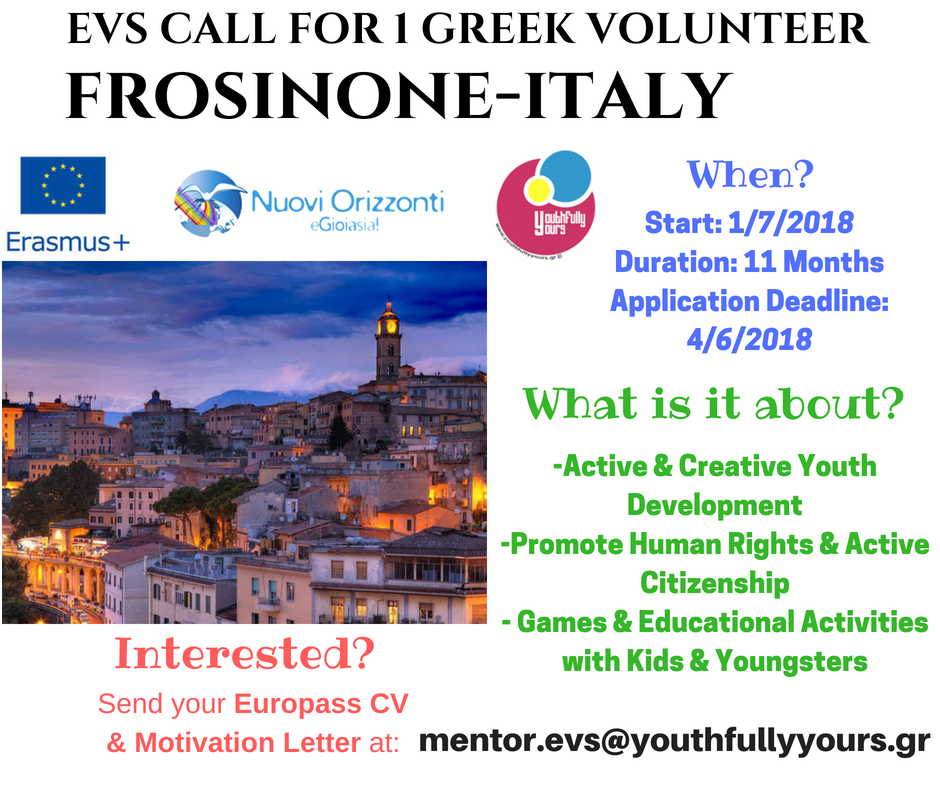 Ιn association with: Nuovi Orizzonti Association   
Τίτλος: «Happy Childhood»
Τόπος: Frosinone, Italy
Ημερομηνίες: 1 Ιουλίου 2018 (διάρκεια 11 μηνών)
Συμμετέχοντες : 1 άτομο 18 – 30 ετών
Δηλώσεις συμμετοχής: εώς την ΔΕΥΤΕΡΑ 04 ΙΟΥΝΙΟΥ
αποστέλλοντας motivation letter & CV Europass (in English),
στην ηλεκτρονική διεύθυνση: Αυτή η διεύθυνση ηλεκτρονικού ταχυδρομείου προστατεύεται από τους αυτοματισμούς αποστολέων ανεπιθύμητων μηνυμάτων. Χρειάζεται να ενεργοποιήσετε τη JavaScript για να μπορέσετε να τη δείτε.
ΠΕΡΙΓΡΑΦΗ ΠΡΟΓΡΑΜΜΑΤΟΣ
Nuovi Orizzonti is an association working in the field of youth discomfort, helping people to get out from different kinds of addiction. Thanks to twenty years of experience in the field we can maintain that many of the issues connected to the use of alcohol or drugs come from negative experiences and traumas experienced during childhood. For this reason we aim to start a project to protect many children who are in a disadvantaged position, belonging to immigrant families and/or at risk of educational poverty due to economic, social, psycho-physical and cultural disadvantages, referring in particular to the municipality of Frosinone.
This project, named "Happy Childhood", includes two European volunteers, one of whom belong to groups at risk of social exclusion, aged between 17 and 30, coming from Spain and Greece and will be held in Frosinone, one hour from Rome, for a period of 12 months. The territory of Frosinone was chosen because we observed a strong increase of episodes of bullying and juvenile microcriminality (+ 13% during last year).
Therefore, at the "Cittadella Cielo", headquarters of Nuovi Orizzonti in Frosinone, we want to start up a special space dedicated to kids and youngsters where they will be able play safely and parents be connect with specialists of evolutionary age. The two SVE participants will have the opportunity to interact with these children, contributing to the creation of a serene climate and helping them to play game and educational activities that may be useful for their serene growth.
Volunteers will also enjoy private language lessons in Italian, and can speed up their learning through this specific type of relationship, since the language used by children aged 0 to 6 is more elementary, facilitating those who have to learn a new language. All project activities will be conducted in a non-formal way and will activate communication skills for young people and the ability to manage socio-educational activities through familiarization with non-formal education. Volunteers, experiencing this social initiative will discover the values of volunteering, becoming sensitive and will deep the knowledge of themselves and develop the ability to deal with new situations that require a quick reaction.
The objectives of the project are:
Increase the sense of initiative and awareness that one's own ideas can have an impact on the community;
to promote the knowledge and experience of social initiatives and the values ​​of volunteering;
raise awareness of deep and recent issues of hardship;
stimulate curiosity towards human rights and social planning to become citizens active;
improve the ability to manage one's own time and personal resources and financial;
increase communication skills for young people and management of socio-educational activities aimed at young people, becoming familiar with non-formal education;
increase youth empowerment;
encourage creativity and innovation at all levels of education and training;
improve the capacity for socialization, integration and inclusion in society;
promote equity, social cohesion and active citizenship;
to increase the protagonism and youth emancipation;
disseminating Knowledge of European youth projects and promoting participation in other initiatives under the Erasmus + program.
Practical arrangements:
The volunteer will work 35 hours per week distributed in 5 days (two days a week rest). He/she will work from Monday to Friday from 9h to 13h in the morning and from 15h to 18h in the evening, except for those situations that require working in the weekends for special events. When he/she has to work in the weekend, he/she will have two days off the following week.
Accommodation and food:
The volunteer will be accommodated at the "Cittadella Cielo" center in a 2-seater room. There room is equipped with services and will be shared between the two volunteers. At the center "Cittadella Cielo" is active canteen and laundry service. An internal "bar" space will also be available for volunteers internet room, wi-fi, reading room, in order to balance your privacy with common meeting areas and large panoramic terraces.
Pocket money:
Every month the volunteer will receive money for their personal expenses, according to the rates planned by Italian NA, that is, 115 Euros monthly.
Local transport:
The locations for all the activities to be performed by the volunteer are walking distance from the accommodation provided. However, if there are any special activities that require transportation, it will be provided by the hosting organization.
Linguistic support:
The volunteer has the right to receive linguistic support through an online platform, as indicated in the Erasmus+ program guide. There is the possibility to offer face to face language support in Italy.
Travel and cost reimbursement:
Reimbursable travel cost per participant - 275 euros
Οι υποψήφιοι, οι οποίοι πρέπει να είναι έως 30 ετών, για να δηλώσουν συμμετοχή μπορούν να στείλουν το βιογραφικό τους σημείωμα (απαραίτητα σε μορφή Europass και στα αγγλικά) το οποίο να περιγράφει στοιχεία που είναι σχετικά με τη θέση και ένα σύντομο κείμενο επίσης στα αγγλικά που θα περιγράφει τα κίνητρα τους  για συμμετοχή και πως μπορούν να βοηθήσουν στο συγκεκριμένο πρόγραμμα (motivational letter) μέχρι τις 04/06  στο Αυτή η διεύθυνση ηλεκτρονικού ταχυδρομείου προστατεύεται από τους αυτοματισμούς αποστολέων ανεπιθύμητων μηνυμάτων. Χρειάζεται να ενεργοποιήσετε τη JavaScript για να μπορέσετε να τη δείτε.